Power. Clothed in power.
Pardon? What do you mean, clothed in power? May I ask another question? What kind of power? Where does the power come from – a battery? Surely the power can't be electricity because we move around…so how does this "power" work and how in the world are we clothed in it?
(FYI – I learned something new this week and had to try it out – click on the like button, comment or share button – it responds right in Facebook from this blog post!)
How in the world indeed are we clothed in God's power? For this power is not of this world, it is from the Spirit of the God. Supernatural. Indescribable. Incomprehensible. Power. Yet oh so very real.
And how natural the supernatural world becomes when we experience the power of the Almighty God in our lives.
Yes, the Spirit of the Lord is here with us today. Jesus returned to Heaven so the Holy Spirit could come as our Counselor, our Advocate, our Power.
He has come from above and is greater than anyone else. We are of the earth, and we speak of earthly things, but he has come from heaven and is greater than anyone else.
John 3:31 NLT
Yet Jesus said we would do even greater things than He. Can you even begin to truly imagine doing greater things than Jesus did?!
I tell you the truth, anyone who believes in me will do the same works I have done, and even greater works, because I am going to be with the Father.
John 14:12
For it is Jesus Christ who lives in me. And that makes it easy(ier…!) to consider that I can do all things through Christ Jesus who gives me strength. In my own strength and power, hmmm – did you just think of a wet noodle? I did…
The truth of God's scripture awes me . Yet I have a confession to make. Why is it easier for me to believe His word is true – for YOU, yet not so much for me when it says I am strong? Is this true for you too?
Yet God's word – both His Living Word and His written word – is true. And it applies to each one of us today. Thank You Lord!
So repeat after me…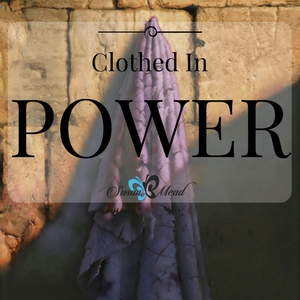 Really. Yes really. The Spirit of the Lord clothes YOU in power. Want to pray powerful prayers? The guide to powerful prayer has power packed Biblical reminders for us.
Believe. Receive. Go do God's work – clothed in His mighty power. Remember the power of 3? God the Father, Jesus Christ the Son and the Holy Spirit of God.
Do you feel the royal purple cloak of God's power draped like a mantle on your shoulders?
Loading InLinkz ...