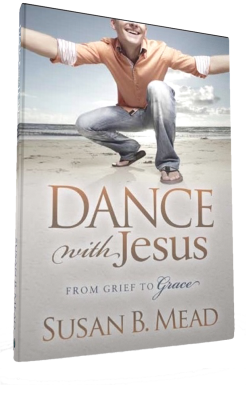 Grief hits each one of us and can come from so many different directions...
Have you lost someone dear to you? A brother, sister, parent, grandparent, family member, friend or a child? A relationship? A body part to cancer or accident? Do you want to experience the joy of moving from broken to blessed? From GRIEF TO GRACE? Do you want God to take your hand and teach you to dance...with Jesus? Yes?
Then devour the words in Dance With Jesus: From Grief to Grace! Expect to laugh through the tears and experience a deepening of your faith.
About the Book
"Susan has personally experienced one of the deepest forms of grief. Yet she writes this treasure of a book from her point of grace not grief. I plan to give this book to any of my friends that find themselves crying and needing someone who deeply understands."

– Lysa TerKeurst, NY Times Best Selling Author of The Best Yes
"You don't want to miss this book! I had the honor of being at the first reading and I wept like a baby! It brought a deeper measure of healing to a loss of my own. Cannot wait to get my own copy! Thank you Susan."

– Leslie Brown Baker
"As human beings, it's difficult to understand why bad things happen to good people. As Susan shares their story, we are reminded that the Holy Spirit comes to comfort us. Abba Father longs to wrap his loving arms around us and Jesus Christ waits to dance – if we only take His hands."

– Richard Wright, CEO & President, AdvoCare International, LLP
Disclosure of Material Connection: Some of the links in the page above are "affiliate links." This means if you click on the link and purchase the item, I will receive an affiliate commission. I am disclosing this in accordance with the Federal Trade Commission's
16 CFR, Part 255
: "Guides Concerning the Use of Endorsements and Testimonials in Advertising."