You want to keep it together as much as you can following the death of a loved one, but you're unsure how you will cope. Whether you need to be the rock for your children, dependable to your family members or you can't afford the time off work because you need to keep a roof over your head, there are ways to help you get through.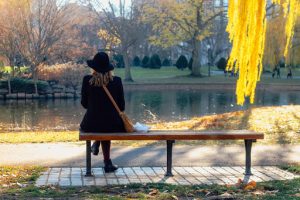 Picture by Snapwire
Self Care
To keep it together in a traumatic situation, and to help you cope during hard times, you time is incredibly important. If you have the time to do so think of the activities that allow you to unwind and feel better about yourself. Is it becoming lost in a good book or one of your favorite feel-good movies? Perhaps pampering yourself and having a long bath. Or maybe it's painting, visiting the local petting zoo or taking a long walk through the park. Downtime, on your own, is essential to reflect, gather your thoughts in peace and regain energy to take on the days ahead.
Renew Your Mind Daily
I turned to the Word of God, for He was my Comforter in the dark times of my life. He shines His brightest light in our darkest moments to remind us He is with us, for God will never leave us or forsake us.
Blessed be the God and Father of our Lord Jesus Christ, the Father of mercies and God of all comfort, who comforts us in all our affliction, so that we may be able to comfort those who are in any affliction, with the comfort with which we ourselves are comforted by God. For as we share abundantly in Christ's sufferings, so through Christ we share abundantly in comfort too.

2 Corinthians 1:3-5 (ESV)
Let It Out
Whether you like it or not, you can only stay strong for so long, until the emotions you feel about your loss rise to the surface and begin to spill over into other areas of your life. If you want to avoid this happening, let out your emotions in private. Whether through crying, writing it down, letting it out physically through exercise, or speaking to a professional to confide in about the way you are feeling, finding an outlet for your emotions is crucial when you need to keep it together
Put Right Any Wrongs
Apart from keeping it together, fixing any issues or problems that may not have been resolved following your loved one's death may help you cope with your loss. For instance, if their passing was due to a wrongful death that wasn't their fault, call this firm if a love one was killed. It's heartbreaking losing family members and friends, especially when their death was not due to natural causes. Seeking expert help in situations such as these can relieve some of the load from your shoulders and give you some comfort that their case is being put forward to right the wrong that happened to your family member or friend.
Good Memories
When you think about your loved one, make an effort to think about the fun times you shared together, even the moments that made you who you are today. Cherish those memories forever. Make a scrapbook of pictures and things they used to say that stuck with you so that you can look over it when you need a boost or memorialize them with one of these amazing ceramic photos. This works for some, but it could be just what you need to stay strong.
Eventually, in your own time, it becomes natural to let go of your loved one for moments so that you may begin to breathe a little easier, then a little longer so you can get on with your life. And you realize you are healing. Glory to God!
Remember this about God:
He heals the brokenhearted and binds up their wounds.

Psalm 147:3 (ESV)