Have you ever found yourself in a hard place only to find out it's exactly where you're supposed to be?  Yea, me too.
I'm honored to share Brenda Bradford Ottinger's writing today and I pray you see you're exactly where God needs you to be.
Perhaps (for sure), I've had a daydream (or three) of someone coming by to make beds and vacuum floors—but this wasn't exactly how I pictured it going down.
Quite the country mile (on a muddy gravel road) from what we'd planned, but, nonetheless, Suite 229 would be our address for a while.
Housekeeping angels aside, those months of hotel life were anything but charmed…except for one undeniable, aqua-tinted perk.
With home reduced to cramped hotel quarters, the pool quickly became our escape from the small of a room and its imposing walls.
Day upon cloudless day, we'd whisk through the halls and down the stairs with sunscreen and towels in tow—our RSVP to the sun's hospitality.
And so it was that sun-kissed afternoon in July—just like the many days before it.
Well, except for the little detail of us being entirely unaware of the divine appointment God had penciled in for us.
He's organized like that.
Flip-flops off and towels strewn, the boys splashed in chlorine-laced water as I settled into umbrella-graced shade.
My sons, still innocent enough to know no stranger, collected playmates almost as quickly as they collected dirt. And this golden summer afternoon proved no exception as they became fast friends with a boy whose name I wish I could remember.
Just another day in the life of a hotel-hitched family.
Oh, but it wasn't.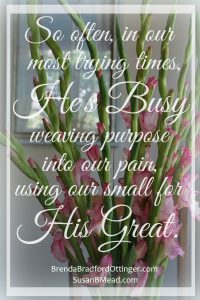 If only we could fathom the differences we make by simply showing up for appointments we never knew we had.
As the sun fell and bellies cried, I called my boys in for showers and supper. They scurried their shivering, towel-draped selves "home" while I stayed behind to gather our things.
And there, in the dusk of that humble space in time, God offered a glimpse of His Day-Timer, His iCalendar, His divine appointment book.
A warm voice interrupted my incessant mental chatter:
"Thank you," she said.
"Your boys are great kids."
"You should be proud."
Who was never included. Who was used to being the lonely watcher, not the giddy splasher.
"This was a Godsend…the highlight of his year," she said.
"Your boys, I don't think they even noticed his differences."
"Thank you more than you know."
Wow.
And here we thought we were going to the pool to get away from the nagging walls of a hotel room.
And here we assumed we were living the nomad life because we'd been unable to find a house in our new city.
And here we forgot we were Living Temples, Kingdom Builders, Divine Appointment Keepers.
Oh, the glory we'd see if we could pull back the curtain linking earth and sky, here and eternity—the many connections God's laced together beyond our notice.
So often, in our most trying times, He's busy weaving purpose into our pain—using our small for His great.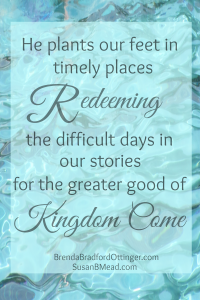 He plants our feet in timely places, redeeming the difficult days in our stories for the greater good of Kingdom Come.
That evening, I walked back up those stairs to Suite 229 with fresh eyes for the unseen glories bound up in the heavy of life. New sight for old truths, as cramped hotel life became a worthy offering to the Guardian of eternal timetables.
I met God in the grateful eyes of a mom that day. In the laughs of a filled-up boy. In the sacred dance with Jesus to the gentle cadence of surrender's song: Here am I, Lord, send me.
A little about Brenda Bradford Ottinger:
Brenda lives in North Carolina with her husband of 24 years and their three sons. Her favorite place to be is on a porch with a glass of sweet tea in one hand and a book (or camera) in the other. (And, bonus points if that porch happens to be at the ocean.) When not reading and writing, Brenda enjoys faith, family, friends, photography and laughter. You can connect with Brenda online at BrendaBradfordOttinger.com
Loading InLinkz ...