Praise God!
When I hear Praise God, my first thought is this lovely song, which was the doxology sung at the church I grew up in. I cherish these beautiful words, as they are simple, yet eloquent and full of meaning.  Deep meaning.
Praise God, from whom all blessings flow;
Praise Him, all creatures here below;
Praise Him above, ye heav'nly host;
Praise Father, Son, and Holy Ghost!

Praise God the Father who's the source;
Praise God the Son who is the course;
Praise God the Spirit who's the flow;
Praise God, our portion here below!
Amen
Praise God! I had never heard this lovely version before.  I pray it blesses you.
Sing Alleluia.  Alleluia means God be praised.  It's an expression of worship or praise. It is the Medieval Latin word for the Hebrew word Hallelujah.  I always wondered how to spell this word! Now I know.
The Hebrew word hallelu-yah means "praise Jehovah" according to Dictionary.com.  It's so easy to search a word today – Praise God! I used to have to pull out the B I G dictionary or go next door to the neighbors or to the library to dig into the Encyclopedia Brittanica.  Oh how I loved looking for treasure in those troves!
16 All Scripture is God-breathed and is useful for teaching, rebuking, correcting and training in righteousness, 2 Timothy 3:16 (NIV)
Yet the best treasure trove is the Word of God.  So praise God that He inspired 66 books to be written over 1500+ years – so we know Him today through Word of the Bible.
9 he made known to us the mystery of his will according to his good pleasure, which he purposed in Christ,  Ephesians 1:9 (NIV)
Praise God-from Whom all blessings flow!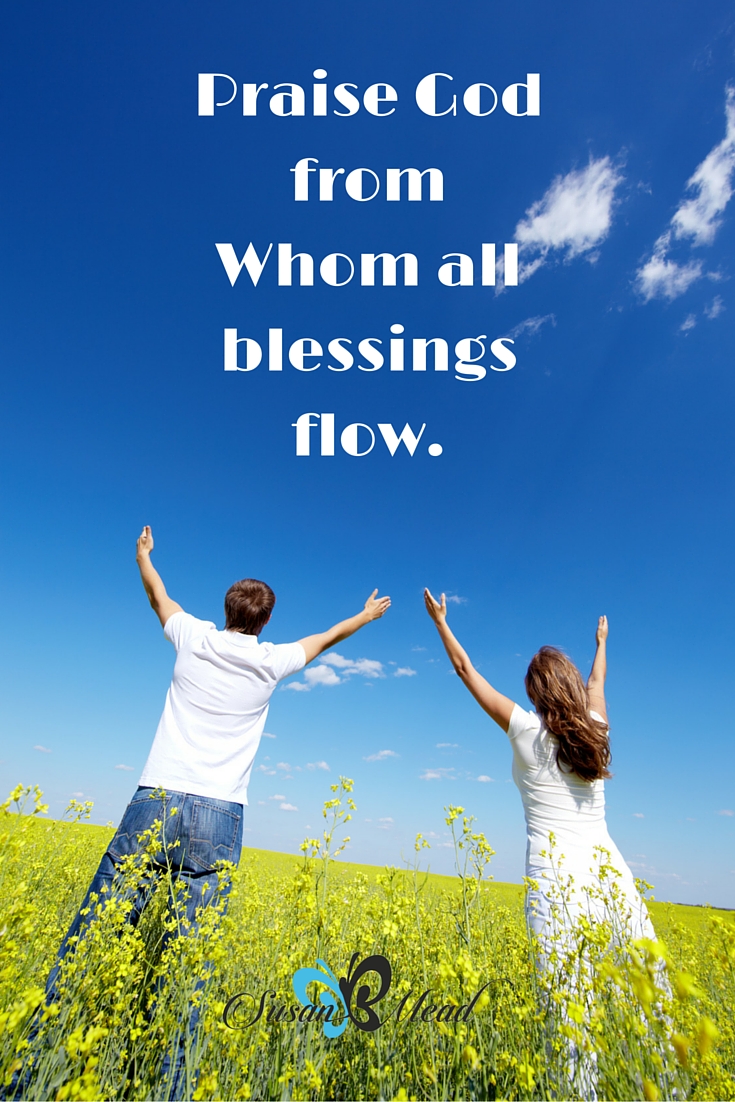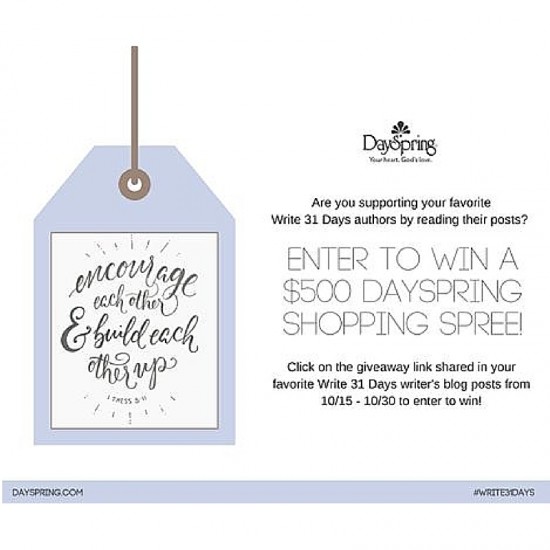 DaySpring.com is celebrating all of the amazing Write 31 Days readers who are supporting nearly 2,000 writers this October! To enter to win a $500 DaySpring shopping spree, just click on this link & follow the giveaway widget instructions. Good luck, and thanks for reading!
Loading InLinkz ...