Container Gardening
With all the loss of trees and landscaping near me and across the country from the recent tornados I thought a quick summer project to create a stunning container garden in an hour would be fun.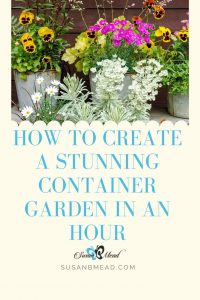 This verse made me think about the destruction we've witnessed creating what looks like a wilderness now, yet the Lord makes beauty from it in His perfect timing.
The wilderness and the desert will be glad, And the Arabah will rejoice and blossom; Like the crocus It will blossom profusely And rejoice with rejoicing and shout of joy. The glory of Lebanon will be given to it, The majesty of Carmel and Sharon. They will see the glory of the LORD, The majesty of our God.

Isaiah 35:1-2
First, recall the rule of three, which means the container needs 3 kinds of plants to make a statement; 1) tall, 2) medium and 3) cascading plants. Yes, that is how many plants of each kind I plant in a container. Is it a rule? No, it's just a convenient guideline.
Some call the tall plants thrillers, the medium plants fillers, and the cascading plants spillers. The thriller goes in the middle or towards the back of the pot, the fillers go on either side of or around the thriller, and the spillers go towards the outside edge across the front, if against a wall, or surrounding the container, if in an open area.
Plant in 14 inch to 20 inch pots with good drainage, so there's room for lots of plants to make a splash of color. Want permission to pack in as many plants as possible into your container? Go for it!
You may opt to plant in three containers, each with different height plants including tall, medium and cascading, or use staggered size containers, taller, medium height and shorter. Let your space and personal preference reign as the arrangements are for your enjoyment. Pick a container that complements your plants and personality, plop in the potting soil, pop in the plants. Voila! Oh yea, pour in water occasionally.
An attractive combination for a sunny spot includes angelonia (Angelonia angustifolia 'Serena Series'), which are beautiful tall thrillers, with white verbena as the filler, and calibrachoa as the spiller. Everyone can create a container that pleases themselves with all the flower colors available.
Or substitute common zinnia (Zinnia elegans), SunPatiens® (Impatiens), or a tropical hibiscus (Hibiscus rosa-sinensis) in place of the angelonia.
Want your planting to pay tribute to the USA on Independence Day? Plant mealy cup sage (Salvia farinacea 'Victoria Blue') or any blue salvia, as the thriller, red verbena as the fillers and white bacopa (Sutera) or fan flower (Scaevola) as the spillers.
A sunny spot winner for the LSU fan (my husband!) is a gorgeous yellow Gerbera daisy as the thriller, white bronze leaf wax begonia (Semperflorens) as the filler and purple sweet potato vine (Ipomoea batatas 'Blackie') as the spiller. Add purple and yellow calibrachoa for a lively color pop.
A strawberry planter is an easy container to plant. Fill it with one kind of plant such as bronze leaf wax begonia (Semperflorens) for sunny spots or impatiens (Impatiens walleriana) or green leaf wax begonias for shadier locations. Grab a couple of 6 packs of plants in your favorite flower color. Place one plant per opening.
Want a strong statement for a shady spot? Plant Tropicanna® canna (Canna indica 'Phasion'), a Kong coleus (Solenostemon scutellarioides 'Kong Series'), and green sweet potato vine (Ipomoea batatas 'Sweet Caroline Light Green'). Add some pizzazz with purple, pink or coral impatiens (Impatiens walleriana) between the coleus and the cascading plants. Stunning!
For a spectacular shady display, choose caladium (Caladium bicolor) or New Guinea impatiens (Impatiens hawkeri) as the thriller, add impatiens (Impatiens walleriana), wax begonia, or wishbone flower (Torenia) as the filler and English ivy (Hedera helix 'Variegata') for the spiller. Wow!
I wonder. What if I poke holes in some old boots and buckets to plant in them? Bet it would work. Here's the rule. Have fun!
The grass withers, the flower fades, But the word of our God stands forever.

Isaiah 40:8