If you haven't already seen this, stop what you're doing right now, and check out this one-time only deal.  
It's like if Cyber Monday and Christmas Morning joined forces to give you the gift of EXPLODING your online business revenue for less than the cost of a tank of gas (just $39)!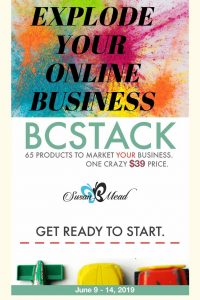 Wondering what the heck I'm talking about? Here's the skinny…
I know these two rebel entrepreneurs, Dan & Rachel Morris. Every year, they put together the ultimate A-Z resource on what's working in digital marketing today by recruiting experts from all over the world.
And then they offer it for 5 DAYS ONLY at 1% of the normal retail price.
It almost sounds too good to be true, but I'm here to tell you that it's VERY real.
Actually, Dan and Rachel of Blogging Concentrated have been my mentors in this digital space called blogging and the world wide web for over four years now. I TRUST them to give me wise guidance and great tools. You can too. And it's time for me to have the audacity to implement more of what they recommend, scared or not!
They do it by bundling together one massive "stack" of online trainings that cover everything from Content Strategy to Podcasting to Livestreaming.
And selling it to tens of thousands of online business owners to justify the even-better-than-Cyber-Monday price.
I mark my calendar for this flash sale every year. It's the best one yet with topics I want to implement this year. Mark your calendar NOW for June 9 to order your BC Stack to explode your online business. 
So, if you're done with googling around to find free business advice on the internet, sifting through the phonies, and the non-helpful '7-Step Plans' to success…
And you're ready to learn from vetted & approved experts who only teach methods that are actually making them money in their own businesses…
All for less than the cost of a tank of gas…
Click here to read about ALL the incredible trainings Dan & Rachel gathered up and how you can get access here. 
Here's the catch. The doors to this offer open on June 9th and close on June 14th at Midnight and then this "stack" of trainings will never be offered again.
So you don't have much time to wait!
That's why Dan & Rachel put TONS of information on that page linked above—it should answer ANY question you may have.
Here's my honest recommendation to you…
Don't "X" out of this post and move on to another task. Get your own digital marketing library and use it to grow your audience (and your bank account) this year! Click here to join right now. 
Let's choose to be diligent and audacious this year. Help me pick one of the modules to work through together as we hold each others hands. Is that like being accountable to each other? How fun and fruitful that would be! I will pick my top 3-5 – and ask you to do the same.  
Idle hands make one poor, but diligent hands bring riches. Proverbs 10:4
Susan
P.S. BC Stack starts June 9th and the June 14th deadline is firm. Dan & Rachel don't make any exceptions to those that email them after that date. It's the only way they can justify such a low price.
Click here to read more and get your hands on this awesome "stack" of courses. 
FYI-Listen as Kim Ball shares how she finds calm in the chaos of life on Find Calm in the Chaos Friday, June 7 at 3:30 PM Central Time on GraceAndTruthRadio.World or on the GraceAndTruthRadio.World app from your mobile device.
Enjoy last week's Find Calm in the Chaos of Life chat with JoDitt Williams here.
PSS-I graduate this weekend with my Doctor of Theology degree. WHEEE! Thanks for celebrating with me. But the most important thing is for you to get your BC Stack.