As the old saying goes, cleanliness is next to Godliness. Did you mom teach you this lesson? Mine did.
Create in me a clean heart, O God, and renew a right spirit within me.

Psalm 51:10 (ESV)
So, it's important to keep your heart and your home neat and tidy at all times, because cleanliness is next to godliness. There are so many benefits that come hand in hand with a clean living space. Not only is it essential for the purposes of health and hygiene, but a clean home is just a more pleasant place to spend time.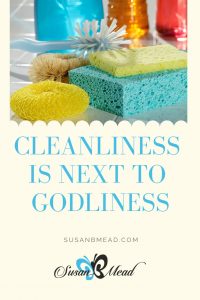 You don't want to become sick due to exposure to dirt and bacteria. Do you know you can avoid allergies by minimizing the amount of dust in your home? You can head back from work or socializing, kick back, and relax without feeling overwhelmed, uncomfortable, or unclean. So, what can you do to ensure that your property remains squeaky clean at all times?
Purge me with hyssop, and I shall be clean; wash me, and I shall be whiter than snow.

Psalm 51:7 (ESV)
I'm not sure if we can get hyssop to clean with, yet when we come before our King Jesus and confess our messiness in all aspects of our life–our sins–He is faithful to forgive us and wash us clean. Isn't it up to us to clean our environment to live in Him, purged of that which defiles us–so He can fill us with His righteousness?
Create a Cleaning Regimen
This may seem a little over the top, but by creating a cleaning regimen, you create a list of tasks that need to be carried out on particular days and ensure you check them off. This will guarantee that all chores are carried out and that no area is missed. I love a good plan, don't you? It also encourages you to keep on top of your cleaning. Instead of putting things off or thinking "I'll do that tomorrow," you'll be more likely to stick to your plan and get everything done when it should be done. And you are rewarded with a pleasant place.
Collaborate with Professionals
Standard day to day tasks are simple to carry out and can be completed independently. But if you are facing particularly difficult tasks, it may be best to call in the professionals, who will be able to do a better job of it than you may be able to. Call in window cleaners to clean and polish outdoor windows that can be difficult to reach. I have had to call in Pest Control to remove dead animals from my property – they were able to do this safely and prevent me from having to come into contact with unclean or diseased critters.
If you find that you are particularly busy and are falling behind on your cleaning, you could also call in professional cleaners who will be able to leave your home sparkling while you focus on other areas of your work and social life. Even if you choose to call someone in for a seasonal deep cleaning, you benefit when you feel squeaky clean. Yep, cleanliness is indeed next to godliness.
By the way, do you know that when you clean and declutter, your body relaxes–and weight falls off easier according to Prevention Magazine? Even more reason to clean and organize your spaces, if you ask me.
Invest in Storage Solutions
There is, of course, a difference between cleanliness and tidiness. But by being tidy, you can make keeping your home clean a little easier. If you invest in storage solutions, everything has its place and many items will be neatly stored away. This reduces the amount of dust and dirt that can build up on static objects and can consequently reduce the amount of cleaning that you have to undertake on a regular basis. Instead of having belongings piled up, they can be tucked out of the way in spaces where they won't be accumulating dirt.
You may want to get rid of the things you have not used in the last year. Have a garage sale, or simply donate them to a charity that accepts items for them to resell for their profit. That is my preferred option. And all those extra books I've read go there too. Everyone benefits! My excess becomes someone else's joy.
Yes, you can live in relatively messy spaces. But by making your home clean and tidy, you can improve your comfort and lead a better quality of life in general. So, why hesitate?