Deepen your faith? You ask, isn't my faith deep enough already? I've known God for years – or months or days. Yea, me too.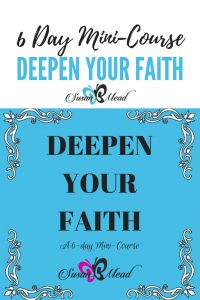 I thought my faith was deep enough until I lost:
A sister to suicide
A son to a drug/alcohol interaction
Both my brother-in-law and sister-in-law to cancer
LORD! I find I need you so often. In the day to day and especially on the hard days, I learned how much MORE I need to lean on the Lord – and learn His Word.
I felt led to turn this writing into a mini-course for you who find themselves at a point in your faith walk wanting (or needing!) to deepen your faith. Would you like to see the points addressed?
Day 1.
 Created…for a Purpose
 

Day 2. 
What does God want you to do right now?
 

Day 3.
 Living example ~ God shines His brightest light in our darkest moments
 

Day 4
. Tell Your Story
 

Day 5.
 Transformation
Have you asked yourself what you are here for?
Lord, why, your soul cries out. And He has an answer for you. Do you want to hear Him? Yes, indeed! The good news is God will guide your next step as He shines His brightest light into your darkest moments to bring healing and hope where restlessness and possibly hopelessness reside.
And they overcame him by the blood of the Lamb and by the word of their testimony, and they did not love their lives to the death.
Revelation 12:11 (NKJV)
Have you shared your story? The lesson I learned by sharing my story is that there's healing and hope for someone else in my story. Lord God Almighty, may You and You alone be glorified in the telling of our stories, for You work together all things for the good of the ones who love You.
As you share your story, a beautiful thing happens. God changes you, from the inside out. And you deepen your faith, every time you share your story.
Let your light so shine before men, that they may see your good works and glorify your Father in heaven.
Matthew 5:16 (NKJV)
Oh, by the way, this mini-course is free. I send you virtual, heartfelt (((hugs))) as I invite you to wade in a little deeper as you jump into God's word with me. Blessings.
Go deeper still…
Get started now to get your free 6 day mini-course.