Oh the stories we have to tell! Oh we know them oh so well!
May I introduce you to Dad, the storyteller?
Charles Andrews Burfoot, Sr.
April 16, 1925 – November 6, 2016
Now about that dash…
Charles Andrews Burfoot was born April 16, 1925 in Norfolk, Virginia and grew up in Crozet, Virginia. His parents were AW and Luna Fulford Burfoot. His dad was a devout man who instilled the love of the Lord in his sons.
Both Charley's parents, his brother, Ambrose, his daughter, Bette, and his grandson, Kyle predeceased him.
Hunting, fishing, trapping and exploring the land are the stories of his youth. He was a storyteller at heart and was infinitely curious about everything. Every stranger was a friend he simply hadn't met yet.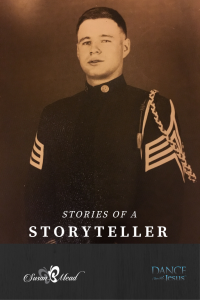 Charley attended Virginia Polytechnic Institute, now Virginia Tech. He was a member of the Corps of Cadets, pitched baseball and boxed there. He graduated with a Bachelor degree in Electrical Engineering, was an Electrical Engineer and a licensed Professional Engineer; E.E., P.E. Electricity intrigued him.
Charley attended his 60th college reunion one month after the Virginia Tech massacre and was so proud of the way the school handled that horrid situation. At 91 years old, he attended the graduation of his granddaughter Emma Aycock from Virginia Tech. He was a Hokie thru and thru and loved cheering the football team on from the sidelines in his comfy chair!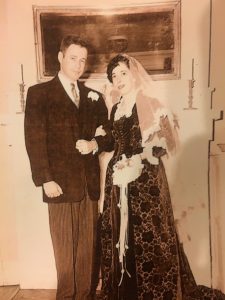 Charley's college roommate, Sam Wilson, took him home for a weekend, where Charley met Sam's sister, Boots – Elizabeth Ligon Wilson. They married 63 years ago on October 17, 1953. Charley moved his bride to Texas, where their children were born. He was a consulting engineer for many years prior to moving to Homer, LA as the Systems Engineer for Claiborne Electric Co-op.
Their children are Charles "Chuck" Andrews Burfoot, Jr, Susan "Sudi" Burfoot Mead, Elizabeth "Bette" Burfoot Keeling and Margaret Burfoot Aycock.
Chuck married Amanda Best, so according to Charley, she's the Best Burfoot! Their daughter is Mary Elizabeth "Libby" Burfoot. Susan married Holt Mead and their sons are Matthew "Matt" Alexander Mead and Kyle Wilson Mead. Bette married Robert Keeling and their children are Kathryn Ashby Keeling and Robert "Bobby" Walton Keeling, Jr. Margaret married David Aycock and their children are Emma Rose Aycock and Kenneth Nolen Aycock.
Once his youngest daughter, Margaret, graduated from high school, off he went to Dhaka Bangladesh to help the Bengali government electrify the country. Oh the stories this storyteller had to share from there!
Snake charmers with cobras, elephants helping the men erect poles for the power lines, brick making in ancient ways, the "next door" neighbors who lived in a lean-to against the wall of the compound, playing tennis with the men of the Ambassadors Club, going to Seoul, Korea for a short assignment, landing in Dubai when it was just sand and not the oasis it is today – and the temperature in the plane increased as they landed it was so hot.
Charley and Boots were in Dhaka during a coup in the early 1980s. There was NO communication from outside the country at that time, so the family did not know whether they were safe or not. Oh, the relief when phone communication was restored! Boots was blasé about it. "Oh, we just stayed out of the way. We're ok." Thank God!
In the 1980s to make a phone call into Bangladesh, you would dial "0" to schedule an appointment with the operator. Why? So they could "line up" the satellites to bounce signals around the world to Bangladesh so a call COULD go through. Can you even imagine that today?
Charley and Boots returned to the US the day Susan found out she was expecting their first grandchild. They moved to Rusk, TX where Charley was the Engineer for Cherokee County Co-op. Upon retirement, he became a Master Electrician. He simply had to stay busy! And that he was until the last few days of his 91.5 years.
Charley and Boots moved back to Homer, LA and were thrilled to be back in the country, exploring the land, loving nature and spending time with family. Charley even helped Margaret dig her garden this spring. Oh, how he loved working the land, hands deep in the dirt.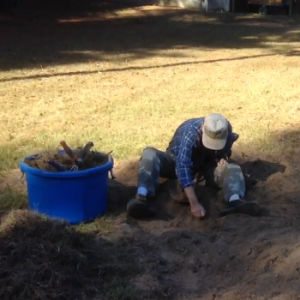 Death came on November 6, 2016 as Love escorted him Home to Heaven. We celebrate!
Stories of a Storyteller: The Legacy of Charley Burfoot will be the memorial book created from your stories. So a heartfelt thank you for taking a moment now to share on Susan's website.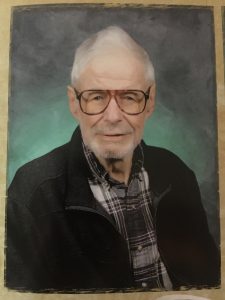 What a fun way to celebrate his 91.5 years!
Loading InLinkz ...
e
Watch "The Encounter" now and get the 1st month FREE at PureFlix.com.