Your Prayer life is a Reflection of Your Relationship with God
 Did you know that? I'm honored to share a post by Horace Williams Jr. as he launches his new book, Unleash The Power of Prayer. I love his writing and cannot wait to dig in, as I know he will dig DEEP – and take us with him. And digging deep is when prayer unleashes the power of God in our lives to transform us, right?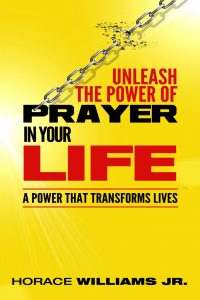 Relationships. From the moment of our birth, every one of us has been in a relationship. There was the first relationship with our parents and then possibly one with siblings. Some of us even had relationships with imaginary friends as young children. Maybe you had tea with them as you played with your dolls; maybe you invited them into your tree house or your homemade blanket fort that you had built as your hideout (as was my case).
As you got older, you gravitated toward a real best friend; someone you could see, play with, and grow up with. There were birthday parties, sleepovers, campouts, and school field trips.
Your relationships have grown since those days; some of you fell in love, got married, and even had children of your own. God has created us with the need to be in relationships.
There is one relationship that is more important than any other; it is your relationship with God. He loved us so much that He sent His son as a sacrifice for ALL our sins. You might have heard the phrase "free gift of salvation," and it is indeed free to us. Jesus paid the ultimate price to give us the opportunity to commune with Him, and he wants us to accept His gift. Oh, what unconditional love!
For years, I took His love for granted. When I think back on those times of rebellion and selfishness, I know how much I hurt Him. I thank Him for His grace and His patience with me. I want to show Him how much I love Him and talk with Him as often as I can. This brings me to a short story.
My first love
When I think of true love, my mind always goes to my first love. I was eighteen years old, and she was a month younger than I was. It was Christmas time, and I was playing one of the three wise men in our church play. I headed down the aisle singing the song "We Three Kings" with my fellow actors. When we reached the stage, I saw her sitting in a pew. Her beautiful brown eyes put me in a trance. I finished the song, but I was only focused on her; I had to find out who she was.
After the play, I introduced myself, got her number, and called her that night. We talked for hours. I still remember the long list of questions I had written down to ask her. Questions like what her favorite colors were, what flowers she liked best, what school she went to, and what she liked to do for fun. I had to know everything about this girl!
She was a talented artist who loved to draw. (I still have the sketch she drew for me on our first Valentine's Day.) I shared with her some poems I'd written, and she seemed to enjoy them.
We were so caught up in getting to know each other that we monopolized the phones in our homes. Every time the phone rang, I dashed like I was in the Olympic 100 meter finals to the nearest one to grab it. We would talk for hours at a time; either until we heard that dreaded click indicating that someone was calling or a family member picked up needing to use the phone.
"I love you," I'd say. "No, I love you more," she'd reply. Back and forth we would go, professing our undying love for each other. Nights of conversation often ended with one of us waking to the sound of the dial tone after we had fallen asleep on the phone.
Now I feel the same way about talking with God (except for the falling asleep part). Remember this: prayer is personal. I get excited when I go to our special place to talk with Him. I cannot wait to thank Him for all He has done and continues to do each day. I ask Him to reveal any sins I need to confess so I can repent and keep our lines of communication clear.
Yes, I encounter trials and tribulations, but I am learning to approach God differently during those times. Instead of asking, "Why did this happen?" I ask, "What do you want me to learn from this, Lord?"
For if you cry for discernment, Lift your voice for understanding; If you seek her as silver And search for her as for hidden treasures; Then you will discern the fear of the Lord And discover the knowledge of God (Proverbs 2:3-5).[1]
I eagerly wait to see what He wants to show me. Spending time in God's living word has helped me understand another important point: Prayer is about seeking God's will for your life and the lives of whom you are praying for. Remember that God hears your prayers when they are aligned with His divine will.
Delight yourself in the Lord; And He will give you the desires of your heart (Psalm 37:4)[2].
As Christians, we must make prayer a priority in our lives. We have access to God's amazing power through prayer. Prayer is not about you but about our Savior. Be intentional in your prayers, and pray with purpose.
God's blessings will overwhelm you as you spend purposeful time in prayer with Him. Your relationship with Him will grow deeper, stronger, and more intimate than you ever imagined. He is unlike any father you will ever know. His love is unconditional, His grace is undeserved, and His power is undeniable!
Prayer is about having intimate conversations with God—the one who loves you, sent his son to die for you, and delights in hearing from you. As you go through your day today, ask yourself this: "What does my prayer life reflect right now?"
A little about Horace: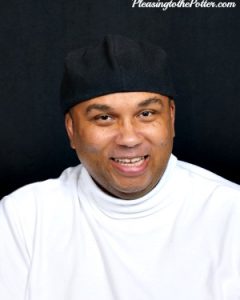 Horace Williams Jr. is a stroke survivor and born-again Christian who loves Jesus Christ. He has seen the power of prayer and God's healing in his own life as he continues to recover from a massive stroke that paralyzed his left side more than six years ago. He wants to inspire, encourage, and remind Christians of the power available to them through prayer. He writes at PleasingToThePotter.com.
You can get a copy of his new book, Unleash the Power of Prayer in Your Life, by clicking here.
[1] and [2] biblegateway.com/NASB
Loading InLinkz ...