It is there in the waiting that I met Jesus…
There I sat in the tiny room waiting for the ultrasound tech to enter. Huddled in the corner I had brought an audience. Included was my dad who had never been to an ultrasound appointment before.
I couldn't believe my eyes as she scanned my slightly engorged belly. Twins. Could it be? Two precious bundles of joy lay feet to feet. "Two!" I exclaimed. As I stared at the screen trying to figure out if it was real, the tech sat in silence.
I looked over to confirm what I saw to be true but instead, I saw was a tear stream from her face. The next words didn't feel possible. "I can't find heartbeats."
WHY WHY WHY. It was all I could ask. With all of the modern technology, why couldn't anything be detected before now? The realization is the Lord gives and the Lord takes away. He is the ruler over life and death. Not a test.
There was nothing anyone could do. I had to wait one week to deliver them. With previous pregnancy complications, being this far along in my pregnancy with twins, delivering immediately was not an option as that meant risking my life as well.
So I waited. In that week of waiting, I met Jesus. I was saved when I was young and believing in Jesus was all I ever knew. Yet I had never met Him. I had never really known Him and I certainly had never made myself known to Him.

Peace Beyond My Understanding
Down on my knees, I cried out. Lord, I know you can change this. I know you can make the results inaccurate. I know you can make their tiny hearts beat once again. Lord, I believe that my tiny bit of faith I am bringing you can move mountains.
But, Lord, thy will be done.
For the first time in my life, I had truly surrendered. Surrendered my will and my control. Surrendered my babies and the part-time god I had created.
Lord, there is one thing I ask of you, please give me peace. Overwhelming, undeniable peace. He whispered in my soul.
Do not be anxious about anything, but in every situation, by prayer and petition, with thanksgiving, present your requests to God. And the peace of God, which transcends all understanding, will guard your hearts and your minds in Christ Jesus. Philippians 4:6-7 (NIV)
The Lord lifted me up off of my knees and washed me with the one thing I needed in my life. Peace.
Every time I began to cry, I was washed in this peace I couldn't understand. The tears would come and peace like a river washed them away.
In my human flesh, I would have been a wreck but my soul was guarded. I certainly grieved and the Lord allowed that time. But in His time, in the moments where He wanted me to see Him, my one request was granted.
This more than anything was the one the Lord knew I needed. The peace that transcends all understanding and knowing it was only from Him.
Confident Hope
Days of heartbreak turned into moments of joy. Because instead of asking that question of why, which often times goes unanswered, I began to ask for what purpose. What would the Lord have for me in this?
It has been nine years. Just this week I shared my story of God's overwhelming peace in the midst of utter heartbreak. And it allowed a friend to open up about her hurt and the opportunity to pray for her.
In His goodness, He wants the best for His children more than we want the best for our children.
So if you sinful people know how to give good gifts to your children, how much more will your heavenly Father give good gifts to those who ask him. Matthew 7:11 (NLT)
I asked for peace. He gave me an abundant amount. I couldn't have asked for a better Father to love and hold my children when we could not. He knew them by name. He knew before the foundations of the earth what He had planned for me and for them. In His goodness, He knew in His arms is where they belonged.
I know in my heart His plans for me are for my good and for His glory. I have a confident hope and I share this story today all glory to God for what He has done in me and through me because of these moments. All Glory to God who loves me with an everlasting and unfailing love.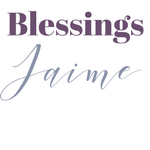 A little about Jaime Weibel:
Jaime is the blogger and author at Seeking God with Jaime Wiebel. She has had many journeys with Jesus. Time and time again He has proved His faithfulness. Because of Him, she can proudly call herself His child. Because of His great love, she spends her time teaching others about Him. You can also join Jaime weekly as she and the team will encourage you through the Bible at Seeking God Daily.
You can also connect with Jaime on Facebook | Twitter | Pinterest | Instagram
May I share how powerful it is for me to read Jaime's story? Ten years ago March 29th, I too lost a child. Not twins, yet I lost my 20 year old college age son Kyle, my youngest, my baby. The one who still snuggled into my neck when he hugged me. Thank you Jaime for sharing your story of God's glorious grace and His peace you experienced.
Thank you especially for sharing this story with me and this community of readers in the month of March, 10 years after losing Kyle – even through I really know where he is, I just don't know his zip code… And God's peace prevails.
And I thank God, Jaime, you found Jesus in the waiting…
Loading InLinkz ...