Knit together…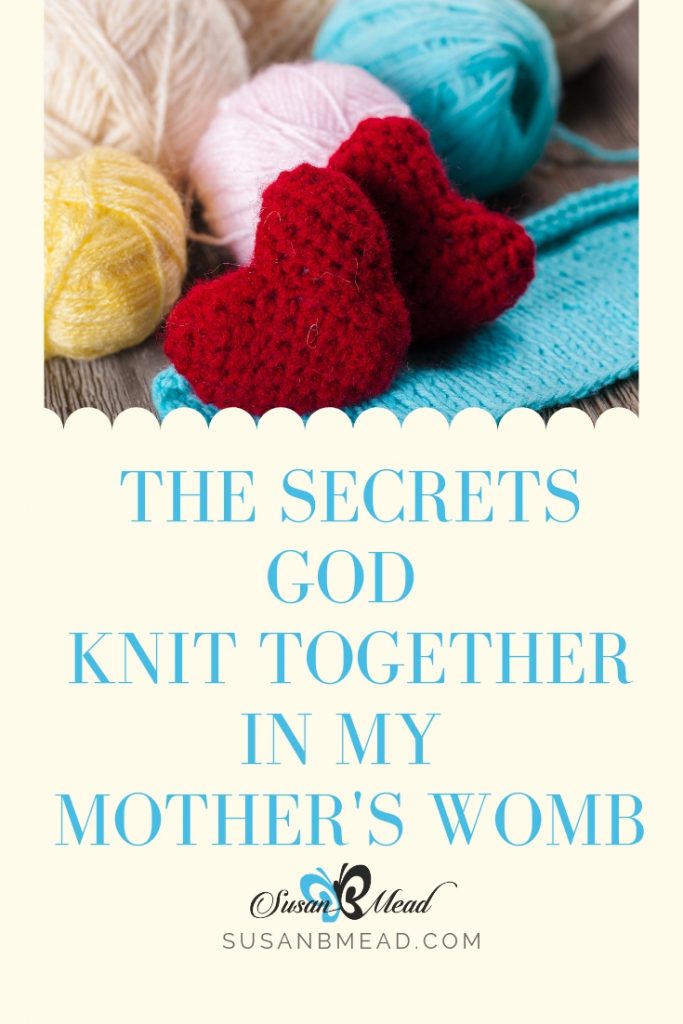 I can see them working diligently over the 9 months that are required for You to knit me together in my mother's womb, Lord.
They seem to get bigger over that time as You wield those mighty tools, not swords, knitting needles according to the Word of God, steadily meshing together, threading flesh to flesh, bone to sinew, muscle to tendon as You create another new thing, Father.
And then You breath LIFE into Your child. How magnificent!
It will soon be Mother's Day. A day we look forward to-or dread-depending upon our relationship with our mother, our children, or our unfulfilled desire for children. Let's look at how we were knit together in our own mother's womb.
Psalm 139:13 For you created my inmost being; you knit me together in my mother's womb.
Little teeny knitting needles with special tips for special jobs.  I can only image how those tools are shaped, Father.  Only You know.
Do You, Lord, have a special set of knitting needles for the heart of God You create in me?
And the special ones for the mind…

Oh Lord, create in me the mind of Christ!

I praise Your mighty name for You chose to reveal Yourself to me in such a mighty way Father…yet it started when You began to knit with those special knitting needles just for the mind…
And the soul, FATHER!  What do those unique knitting needles look like?  Do these divine devices differ for each one of Your dear children?  I had to ask, since Your Word says we are all uniquely made, yet created in Your image.
Psalm 22:10 From birth I was cast on you; from my mother's womb you have been my God.
Yes Lord, cast on You from my mother's womb.  You have been and will be my God.  I praise You for choosing to reveal Yourself to me, that I may extol Your virtues and exalt Your Holy Name.  Thank you that You choose us.  HOLY is Your name among all names.
Psalm 71:6 From birth I have relied on you; you brought me forth from my mother's womb. I will ever praise you.
I will ever praise You. INDEED, I praise You, Elohim. My Strong Creator God. Indeed.
Ephesians 6:2-3 2 "Honor your father and mother"—which is the first commandment with a promise— 3 "so that it may go well with you and that you may enjoy long life on the earth."
Thank You for commanding us to honor our mother and father, O Father God.  And thank You that Your commandment includes a promise…that it may go well and you may enjoy long life on the earth.
Mother and I enjoyed the local Women's group luncheon when she was 91-she was such a joy to be around.  Sharp mind, big smile and a heart that melted folks around her.  She was a treasure. How I miss her. I pray this tribute honors her on this first Mother's Day without her in my life.
Thank You, Father, that I had her here with me until she was 94.  Yes, she was given a long life on this earth.  HONOR…She honored You so well, Lord. And was an inspiring role model. She never gave up her mothering role.
Thank You, Father, that You chose her to be my Mother!
Happy Mother's Day