The Judge video. (Wanna see me as judge?! Oh my…)
The judge enters the courtroom and all rise rings out from the bailiff.  Out of respect for his position and authority, all rise.
We honor him with our attention. And what he says is the law in his courtroom. All obey or they are thrown into contempt of court and possibly jail. He rules. It is his domain and responsibility to reign with authority to uphold the law.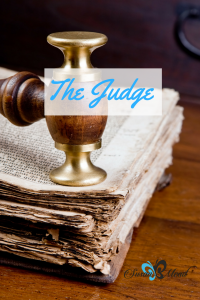 Yet God says He is The Judge – of all creation. Do we rise and respect Him each and every day? Do we pay honor to His Position, to Him, and to His Name?
Do Not Judge Others

7 "Do not judge others, and you will not be judged. 2 For you will be treated as you treat others. The standard you use in judging is the standard by which you will be judged.

3 "And why worry about a speck in your friend's eye when you have a log in your own? Matthew 7:1-3 (NLT)
Yet how often do we break the law of the land? How often do we break God's law – and His heart when we stray? Daily…
Do you think we owe God our obedience? Are we to yield and submit to His authority?
I say yes.
Court is adjourned.  All rise!
Loading InLinkz ...