People have always taken second jobs to help make ends meet, and technology has made it easier for workers to find those second jobs, or "side hustles." Platforms like Airbnb, TaskRabbit, Uber, and Etsy offer new opportunities to make money, leading to the "gig economy."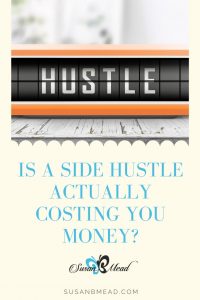 More and more Americans are picking up a side hustle, according to the United States Census Bureau. In 2017, the number of "nonemployer businesses" rose 3.6% to 25.7 million. A nonemployer business is considered one without paid employees.
While not all nonemployer businesses are side hustles, on-demand jobs have contributed to this growth. Intuit research forecasts "the number of people working on-demand jobs will grow from 3.9 million Americans in 2016 to 9.2 million by 2021." Their research found the primary reason side hustlers picked up a second income was to create financial stability.
Types of Side Hustles
Looking to make some extra cash outside your 9-to-5? There are plenty of options. You can rent assets, sell new and used goods, and pick up freelance jobs and services.
Finish reading the article here. It's excellent!
Do you have a side hustle? Please share!
I have a side hustle too – did you know?
Pioneering a new company.
Ground floor opportunity.
No home or hotel gatherings.
Growing via Social sharing.
Curious? Take a peek.