Role Model
Monkey see, monkey do.
I do what I see My Father do.
So do our kiddos, our neighbor's kiddos, the kiddos at church, school and around the world. Children are looking for someone to mimic. Kiddos do what they see being done.
So what example are we setting for our children?
May I be transparent as a parent with you here? (No pun intended – apparently!)
I failed in so many ways when my sons were young. I did the best with what I knew at the time…
Yet I missed the mark on some major points.
And I do not get a do over.
Train up a child in the way he should go, And when he is old he will not depart from it. Proverbs 22:6 (NKJV)
Train up a child. Yes, take the time to train up your child. Nobody else will…
4 Fathers, do not exasperate your children; instead, bring them up in the training and instruction of the Lord. Ephesians 6:4 (NIV)
Do not exasperate. I thought the children's job was to exasperate US, the parents! Oh, how misguided I was…
8 Listen, my son, to your father's instruction
and do not forsake your mother's teaching.
9 They are a garland to grace your head
and a chain to adorn your neck.
Proverbs 1:8-9
Garland, grace, adorn. Girls – we like those words when it's about bling, right? May our children be the best bling ever – adorning our lives!
I failed to truly teach the boys to obey their parents. They may have been grounded by Dad. I'd return from a business trip a couple of days later and let them "off the hook" thinking I was being nice to them.
So what did I do? Undid everything my husband did to install honor and obedience in our sons.
Do over. Mulligan. Yet that is not an option with people – so I share the error of my ways to train up young moms and dads to be better equipped than I.
What do I suggest? Get totally aligned as parents on child rearing. Commit to support each other rather than undermining one another with your children. Your role is to raise your children to be well-adjusted adults who love their Lord God.
Teach your children honor, respect and obedience and the consequences of failing to honor their parents. Be a great role model for them.
6 Children, obey your parents in the Lord, for this is right. 2 "Honor your father and mother"—which is the first commandment with a promise— 3 "so that it may go well with you and that you may enjoy long life on the earth."
Ephesians 6:1-3 (NIV)
What do I see in those words that I call to your attention and pray you learn from my lesson?
so that it may go well with you
and that you may enjoy long life on the earth
We lost Kyle when he was 20 years old. Lesson learned – in a very hard way. We failed to teach him to honor and respect his parents.
We knew the Lord, yet God was not Lord of our lives at that time. What I have learned is this.
We don't get to cherry pick the verses we like and live how we want to live, unless we are willing to face the music. How's that saying go? Been there, done that, don't wanna do it again.
So please learn from the errors of my ways. God forbid any one of you would walk a similar past with one of your children – a path to their grave – because you weren't brave enough, or were too proud, to change FOR THEM.
So Jesus said, "When you have lifted up the Son of Man, then you will know that I am he and that I do nothing on my own but speak just what the Father has taught me. John 8:28 (NIV)
I do nothing on my own. I speak what the Father has taught me. So teach your children well, my precious friends.
Jackie Kennedy Onassis said, "If you bungle raising your children, I don't think whatever else you do well matters very much."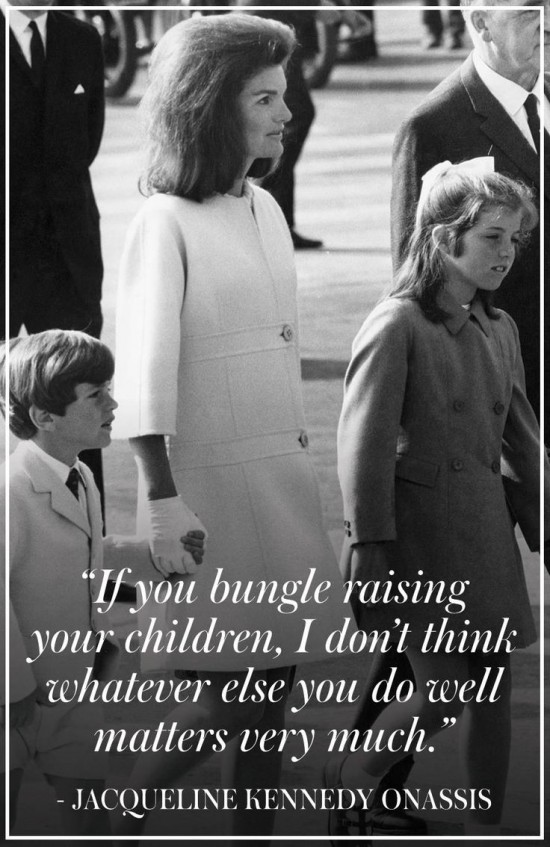 My prayer – that you choose to serve as an amazing role model from your children like Jesus did for us. How priceless is His sacrifice for us? And how priceless are your children to you?
Amen!