Are you encouraged every day? Really, are you?
What's Happening?
With a unified vision to empower lives with encouragement from the Bible, three brothers from North Louisiana are launching a clothing brand today called Good Word Co. at www.goodword.co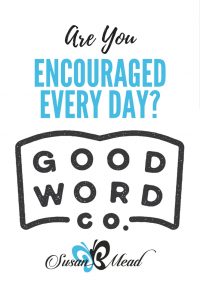 Why Starting Now?
But encourage one another day by day, as long as it is called "today," so that none of you become hardened by the deception of sin. Hebrews 3:13 (LEB)
The brothers have experienced the fruit of daily encouragement and believe the Bible is the most powerful source of encouragement.
After years of prayer and planning, the brothers have created Good Word Co. to empower people to be encouraged every day.
As such, every Good Word Co. shirt displays a short, encouraging message inspired by a verse from the Bible.
What's Different about Good Word Co.?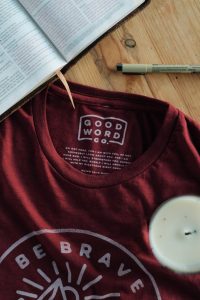 Inside out. Pardon me? What does inside out mean? Unlike most Christian shirts, Good Word Co. shirts contain a Bible verse 'inside' the shirt rather than outside the shirt. The Bible verse empowers the wearer of the shirt while a short, relatable, encouraging message printed on the front of the shirt empowers onlookers.
In a sea of T shirt messaging, simplicity is powerful, attractive and appealing. And that is the objective of Good Word Co. – to appeal to the unbeliever as well as the believer through the elegance of an image and powerful phrase from the Bible.
With every purchase, Good Word Co. gives a portion of funds to help spread the Good Word ("The Bible") to people across the world. We are giving to Samaritan's Purse discipleship program for children in need called 'The Greatest Journey'.
Why Start Good Word Co.?
We believe people need encouragement every day and that the most powerful source of encouragement is the Bible. Sometimes just a few words of reassurance are all that someone needs to help them pursue a dream they've been hesitant to pursue, choose to surrender their life to Jesus, overcome an addiction they've been struggling with, share their faith with someone, lead a Bible study, let go of hurt from the past, and so much more.
We are praying and believing that these types of stories will begin to emerge as people begin to receive the encouragement on Good Word Co. shirts. Our hope is not in our ability to design, strategize, create, etc. but in the power of God and His Word to transform peoples' lives.
Our prayer is that every person who wears a Good Word Co. shirt would be encouraged by the Bible verse inside the shirt, and that every person who sees the shirt would be encouraged by the inspiring message displayed on the front.
Giveaway
Click below to sign up to receive updates, encouragement, and a chance to win a free Good Word Co. shirt. Oh by the way, please share the giveaway with your friends. What if they win – or you do? Or someone sees and believes for the first time? 
Meet the Dwyers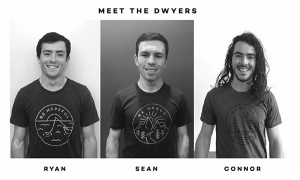 SEAN
Sean is the oldest brother. He is a CPA and works as financial consultant, helping business owners achieve their goals. He is passionate about helping people's dreams become reality. For years he dreamed of starting a clothing line that would help spread the Good Word ("Bible") to people around the world. June 2nd, this dream will become reality. Sean helps manage the day to day operations for Good Word Co.
CONNOR
Connor is the middle brother. He is a graphic designer and photographer working with branding musicians in Nashville, TN and beyond. He is passionate about helping people life fully as they were made to be. He is the creative director for Good Word Co. helping execute the visual side of the brothers' visions.
RYAN
Ryan is the youngest of the three brothers. He is a senior at Georgia Tech in Atlanta, finishing his studies in Textile and Fiber Engineering. He is passionate about reminding people of their true worth. Ryan provides support for day to day operations and strategy and helps with marketing and communication.
Share Good Word Co. on Social Media
Loading InLinkz ...