Confessions of a Hairdresser?
Sounds like a different topic for me to post, yet I'm simply honored to share Debbie Kitterman's writing with you here today. If you haven't read her words, know this – you will be blessed!
My eyes were closed and I was laid back relaxing while my hairdresser was washing my hair. I listened while she filled me in about what was happening in her life since I saw her last. Just as she was sitting me up to cut my hair she informed me her little kitten had gone missing and she desperately wanted to find her kitty. She began to tell all about her kitty and how long she had been missing. I suggested that I, or rather "we" could pray for her kitty to return or be found.
This is where things got really interesting. She leaned forward and said she had a confession to make. I thought to myself, what in the world would she need to confess to me?
Let me just interrupt this story to give you two very important details.
My hairdresser is not a believer yet, but she knows I am.
We have been friends and she has done my hair since I moved to Washington over 21 years ago when our kids met in Christian pre-school.
She leaned in to the back of the chair, she bent down, leaned forward and whispered in my ear, "I called a pet psychic."
I was watching her in the mirror and while she said the words, she kept eye contact with me, until the very end when her eyes dropped away from mine, as if she was embarrassed and afraid of my reaction.
I must confess, I was shocked, and my eyes got rather large as her words registered in my brain.
Puzzled and wondered if I misheard her, I asked "Uhmm, you did what?"
"I called a pet psychic! I know, I know you don't believe in those things and you probably think I'm silly and it was a waste of money. But, I have to find my little kitty. I have to know what happened to her," she replied.
Inside I was laughing, only my friend would do such a thing. On one hand I could understand her desperation to find out what happened to her little kitty. However, on the other hand, I couldn't understand why she was so willing to spend her money. I told her as much too. Then I said, "let me guess, this 'pet psychic' told you your cat was up in a tree, but she was too afraid to get down?"
"Well yeah, she did. She said exactly that, how did you know! But, she also said that my kitty could see the backyard from the tree she was stuck in!" my friend responded.
"Ok, so what did you do with that information?" I asked. "Did you ever find your kitty? Did she ever return home?"
My friend bowed her head and shook it no. No, she had not found her cat and her cat had not returned home.
I stopped her, asked her to look at me and with the gentlest of looks and compassion in my voice said, "You could have called me, you know. I am not a pet psychic, but I do know that God is real. He loves all His creatures, even your kitty, and if we prayed and asked Him, He could tell us where the kitty is or what had happened to her."
Now it was the hairdressers turn to stare at me with wide-eyes and she gave me a look like I had fallen off the crazy truck. She had no frame of reference for a God who would care about the smallest details of her life.
What my hairdresser really needed was encouragement. She needed someone to listen, and she needed to be comforted and cheered up.
You see, people are hungry for an encounter with a real, living God. A God who cares about them. A God who cares about when they are hurting, or their pets are lost.
This is why I wrote the book, The Gift of Prophetic Encouragement. You and I are the ones who have been given the task to be the hands and feet of Jesus.
It is good that you are enthusiastic and passionate about spiritual gifts, especially prophecy… when someone prophesies, he speaks to encourage people, to build them up, and to bring them comfort. (1 Corinthians 14:1 & 3 The Passion Translation – emphasis added).
Buy "The Gift of Prophetic Encouragement" then get Debbie's Pre-order Bonuses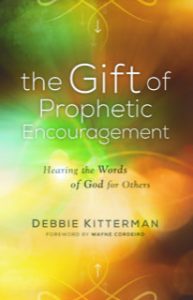 "The gift of prophetic encouragement is a necessary gift, one that the Church is in great need of during these last days."—from the foreword by Wayne Cordeiro, president, New Hope Christian College; author, The Divine Mentor
The Gift of Prophetic Encouragement clears away the confusion about the prophetic gift today, pastor and ministry leader Debbie Kitterman reveals the good news about the gift of prophecy in this practical, powerful book: We are all prophetic because we all have direct access to God. Prophecy is an ordinary part of the Christian life. In fact, it is God's way for us to encourage and strengthen the Body of Christ.
So, open your ears to hear God and break out of your comfort zone to deliver His messages to those who need them most. Act now—His words can't wait
Prophetic Encouragement is Full of powerful testimonies and practical application, this book will help you break out of your comfort zone and embrace a lifestyle of encouraging others–just as Jesus did. You will learn how to deepen your relationship with God, open a direct line of communication with him, and share his words with others. 
The Gift of Prophetic Encouragement  is completely unique in challenging believers to be the gift of encouragement others need today.  This book is written to give an interactive experience. Here are the book's features:
Teaching on the gift of prophetic encouragement
Activation Prayers and Activation Exercises to take you deeper.
Testimonies that will build your faith and increase your boldness.
A profound foreword by Wayne Corderio
Chapter questions for personal study or discussion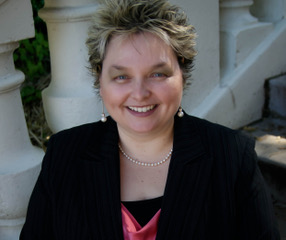 Debbie Kitterman is a natural born encourager who is on fire for God. She is passionate about equipping individuals, so they can go deeper in the relationship with God, reach their God-potential and claim their Kingdom inheritance. Debbie is a wife, mother, author, pastor, speaker and the founder of "Dare 2 Hear," a ministry that trains individuals to hear the voice of God. She travels to churches internationally and is the founder and teacher of d2htraining.com, an online course designed to equip the believer in releasing God's heart. Her writing and teachings inspire faith and build bridges for people to believe and expect the impossible. She is also an ordained Foursquare pastor, currently serving with her husband, John, as senior pastor of Restoration Church in Lacey, Washington. Learn more at: www.debbiekitterman.com
Follow Debbie Kitterman
Blog :: Facebook :: Twitter :: Instagram :: Pinterest :: FB Ministry Page :: LinkedIn :: Google+:: YouTube
Loading InLinkz ...