A HUGE box arrived last night at my doorsteps with a PERISHABLE sticker on it. How fun is this! I wonder who's it from and what's in it as I tear into the package from Bakerly. Who is that I wonder?

A beautiful sheet covers the contents like a gift – O joy! When I lift the paper, ephemeral topped the goodies. While this stuff that looks like tattered raffia is gorgeous, I have one question about it.
Ever experienced that? Of course, it was the day the cleaning crew came and I got to sweep up and wipe ephemeral off of everything, but underneath that…
YUM is all I can say. Bread, brioche rolls, crepes, both chocolate and caramel. An apron and a recyclable bag to carry groceries in. And lots of fun stuff mixed in to make opening the package feel like opening a present.
Yet it's odd, since I'm not a food blogger. I wonder why I received this lovely package of goodies from Bakerly? I know…
Authentic French recipe, no preservatives, no artificial coloring, no artificial flavoring, no high fructose corn syrup. I'm impressed.
I hosted a gathering Wednesday evening. We had about 20 family and friends gather to grill steaks before we all headed to our own families Thanksgiving Day. And I needed bread.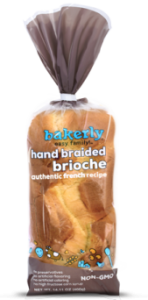 And God heard my need, even though it was small, very small, He is the God of all details. Thank You, O Bread of Life, for hearing my need and sending bread directly to my doorsteps.
I could very easily have gone to the grocery store, yet You had it delivered directly to me. While it was not manna from Heaven, I thank You (and Bakerly!) for directing bread to my home in perfect time for the gathering.
A lovely hand-braided brioche and some brioche rolls went into the breadbasket and onto the table – and down the hatch! Can you imagine? Or should I ask, is your mouth watering yet? Ours did.
Oh by the way, those chocolate crepes and caramel crepes were something special. And all the fun stickers and a noisemaker were enjoyed by the kiddos.
I was set! Thank you Bakerly. The chocolate in the crepes was divine. Of course, I had to do "Quality Control" testing prior to serving. Wouldn't you?
Do I recommend Bakerly products? I do now.
Look online at their full range of family and snack products. You may need to wipe your computer screen off once you go there as your mouth will water.
Just ask them to send yours without the ephemeral in the packaging when you order yours, thank you very much!
Yet the Bread of Life I talked about earlier is even better for it nourishes your soul. Jesus spoke these life giving words, that we might come to Him and live forever.
I am the living bread that came down from heaven. Anyone who eats this bread will live forever; and this bread, which I will offer so the world may live, is my flesh. John 6:51 NLT
Loading InLinkz ...