For the next three weeks, we will dive into 7 Scriptures to Guide Your Week. This week we start with seven Faith scriptures from our Basic Instructions Before Leaving Earth. What, you ask?
A friend shared with me recently that God's word, the Bible, is our Basic Instructions Before Leaving Earth. I laughed out loud at the simplicity of this acronym for the Bible. Have you ever seen this one before? I had not.
The next season for me  will be filled with human pain and sorrow as dad (and the rest of our family!) deals with his terminal cancer.  At 91 years old, Dad doesn't want to be healed. Why? He's ready to "go home" to the Lord.
Based on that, I'm praying dad is pain free.  I'm also turning to seek God's word, as that is where solace, comfort and joy are found. Do you find that's true for you too and your faith is strengthened by His Word?
FAITH. Let's focus this week on a scripture for each day centered on faith. God's word tells us to have faith, yet what is faith? 
Now faith is the assurance of things hoped for, the conviction of things not seen.
Hebrews 11:1
Things not seen. Assurance. Conviction. I believe, God. Thank You for Faith.
By faith we understand that the universe was created by the word of God, so that what is seen was not made out of things that are visible.
Hebrews 11:3
Created by the  word of God. Thank You, Lord. You spoke and things became from nothing – except Your word. You bless us.
So faith comes from hearing, and hearing through the word of Christ.
Romans 10:17
Faith comes from hearing. Did that say reading or praying? No. Hearing. And hearing the very word of Christ. So read your Bible out loud to hear His words. One of my dear friends played scripture though the night for her child. Can you imagine how full of God's Word you would be if you had heard The Word of God every night of your life?
Thank You for this lesson, Lord. Imagine – a mom reads this and begins playing scripture (think Biblegateway.com on auto read!) each night to her child(red). What would a lifetime of hearing the Word of God do for us or our children? Faith. Unshakeable faith.
Then Jesus answered her, "O woman, great is your faith! Be it done for you as you desire." And her daughter was healed instantly.
Matthew 15:28
Great is your faith! Oh how I long to hear those words. Let it be done for you as you desire. Can you feel the pull as your faith deepens knowing this is even possible? 
First, I thank my God through Jesus Christ for all of you, because your faith is proclaimed in all the world.
Romans 1:8
Thank my God through His glorious Son, Jesus Christ! Yes, Lord, with great joy I thank You for Jesus. I proclaim my faith to all the world.  Oh, yea, this is the World Wide Web here, isn't it? Glory Lord! Thank You for providing a way I can magnify Your Holy name in all the world.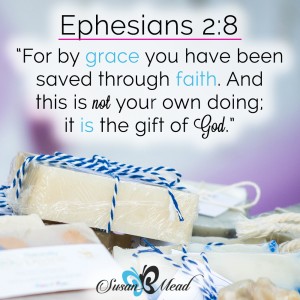 For by grace you have been saved through faith. And this is not your own doing; it is the gift of God,
Ephesians 2:8
Saved through faith. Thank You, God. You are the gift-giver. I thank You for giving the gift of Your Son. I also relish digging into Your gifts, God. The Bible may be our Basic Instructions Before Leaving Earth.
It's also a Treasure Chest filled to overflowing with Your divine, priceless gifts.  How fun it is to DIG into Your word. And find Your map, Your Son, Jesus. He is the way that leads us directly to You in the throne room of grace, Lord.
For everyone who has been born of God overcomes the world. And this is the victory that has overcome the world—our faith.
1 John 5:4
Overcomes the world – everyone born of God! We overcome the world. Victory is guaranteed.  Thank You Lord for reminding me that I fight the good fight of faith from a battle that's already been won. Victory! You WIN. Your Bible tells us so.
Thank You, Lord, for sending us our Basic Instructions Before Leaving Earth. I thank You that my father introduced me to You, My Father God. Dad's already read Your basic instructions and is ready to leave earth and come home to You. My prayer continues to be he remains pain-free. We praise You for that gift, Lord!
Loading InLinkz ...