Where Angels Trod
Wow, my mind exploded as I thought of walking where God's angels trod. In the Heavenlies, with the saints who have gone before us. Then I realized something. God's angels are with us, each and every step of each and every day.
My favorite verse in the entire Bible is Psalm 91:11. I call it my 911! prayer – that's simply what it looks like to me – 911! And it's pretty handy scripture in any emergency – and every day too.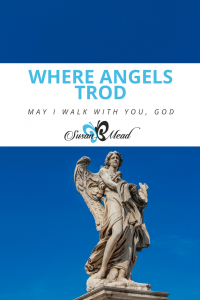 For He will give His angels orders concerning you,
to protect you in all your ways.
Psalm 91:11 HCSB
Powerful promise of protection from our Almighty God. Remember, carry your shield high and do one more thing. Do not let the angels God's assigned to you sit on the sidelines, on the bench or in the unemployment line. Ask God to put them to work on your behalf.
May I walk with You, my God?
May I walk where angels trod?
Would You look at me and nod?
Holy Lord, You alone are God.
Come to Me!
Come and see!
Glory be –
Eternally.
When I fall on bended knee
You hear my deep heartfelt plea.
You invite me to come and see.
Yes, You say, "Come to Me."
Jesus Christ – He's My Son.
He's the One, the only One,
Who makes the enemy come undone.
Come and meet my only Son.
When the daylight dims to dark.
When I pray it lights a spark.
This quest is not just a lark,
For Holy angels call out, "Hark!"
Come to Me!
Come and see!
Glory be –
Eternally.
Angels trod across this land.
You order them to take the hand
Of the one who cannot stand.
In Christ, we claim, "Yes, we can!"
Yes we can
Take a stand.
Walk this land
Hand in hand.
With our God
Our feet are shod
In the Gospel
Of our Mighty God.
Come to Me!
Come and see.
Glory be –
For all eternity.
I pray blessings over you today. May God order His angels to protect you wherever you go today, tomorrow, and each day thereafter. In Jesus' name. Amen.
Do you know each angel has one assignment, one unique task? Makes me wonder how many angels God has assigned to you today…
Loading InLinkz ...