Have you ever heard busy is an acronym for Burdened Under Satan's Yoke? Wow! I don't want to be so busy I distractedly pick up Satan's yoke of busyness – or let him put it on me.
I don't want to be burdened by the busyness of life. That word is spelled correctly and is not a typo – busyness – not business.
Then heads up, girlfriend! It's not God's plan for us to be burdened. Scripture says His burden is light.
For my yoke is easy and my burden is light." Matthew 11:30 (NIV)
EASY! Yes, easy. And light. Father, I feel stooped and heavy-laden under the weight of responsibility.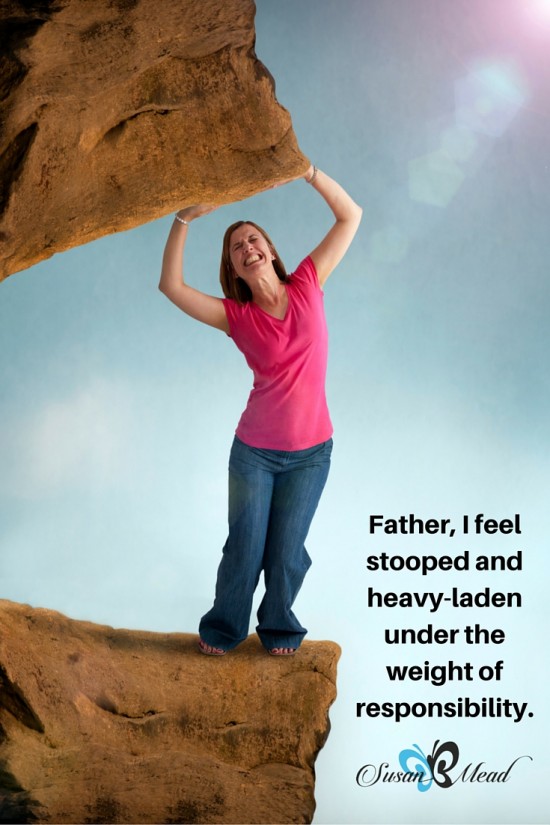 Oh, my goodness, is that why it feels so heavy and burdensome, Father? I'm not finding calm in the chaos of all this busyness, Lord…
So when was the last time I slowed down long enough to lounge in the arms of my Savior, savoring every second, every precious moment in Your holy presence?
I don't remember…
Yet God longs for us to come close and call on Him, to seek Him while He is near, to find Him – so He can take our burdens, lifting the load and letting us go – free.
Seek the Lord while he may be found; call on him while he is near. Isaiah 55:6
Did I stop seeking my Savior's presence? Was I really that busy? Then whatever it is that burdens me is a distraction – to my destiny – and you from yours.
Holy Father God, forgive me – us – for being so busy we are burdened. Bless us Lord as we turn – or is that return?! – to you, arms lifted, hearts lightened, souls singing with joy.
You alone are worthy of praise, Mighty God. I seek Your presence and Your peace, precious Father. You lead me into finding the calm in the chaos of life as you protect me from the busyness of my life.
The path is narrow
Did I stray?
And gather stones
Along the way?
The bag is full
My heart is loaded
My back is breaking
My life exploded
He hung on the Cross
To set me free
Jesus lifted me
Off my knees